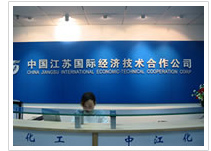 Who are we?
Founded in 1995 on December 30th, the Chemical branch of China Jiangsu International, is one of the branch subsidiaries of China
Jiangsu International Economic-Technical Cooperation Corporation.
Our Vision
We are never content with "better than most" and therefore are working hard to become the first choice of our customers, employees
and investors.
Mission Statement
Our mission is to maximize the contribution to our shareholders, by maintaining steady growth and sustainable development.
Therefore, meeting or even exceeding our customer's needs and expectations is our top priority at all times.
Also, we are trying to help our employees to realize their career objectives.
Common Shared Value
While our company grows, our employees are able to increase their personal value. We cherish our people, build mutual esteem and demonstrate openness and integrity. We encourage team working and communication, and pursue learning and innovation.